As part of our Havering History series, we're looking back through the centuries to talk about some interesting characters that lived in our borough. From establishing post offices to calculating the speed of sound – Havering has a rich interesting history that we want to celebrate.
Roger Reede
Although Roger founded the well-known Charity of Roger Reede, comparatively little is known of Roger Reede himself.
Despite his generous legacy, he was a troublesome character known for poaching and hunting. He was even once ordered by the magistrates to move away from the town to avoid its temptations. He died around 1482 and was buried at St. Edward Church, Romford.  He had owned land in the area and left much of this to pay for five poor men 'such as have been of good governance and fallen into poverty' to live in his house and pray for his soul.
Through the centuries the value of his legacy has greatly increased, and today the Roger Reede Charity provides Almshouses for the benefit of Poor Men of Good Character unable to maintain themselves. You can read more about the work of the charity here.
William of Wykeham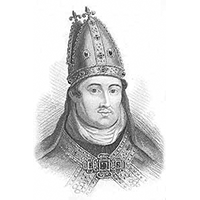 Born in 1324, William became bishop of Winchester and Chancellor of England. He founded Winchester College (public school) and New College, Oxford. In 1391 he bought the lands of the former Hornchurch priority and gave them as an endowment to New College, Oxford, where all the legal documents concerning this transaction still remain. The wealth of parchments and papers is a rich source of information on the history of Havering and many still await study. William of Wykeham died in 1404 – Wykeham Avenue in Hornchurch is named after him.
Sir Anthony Cooke
Sir Anthony resided at Gidea Hall between 1505 and 1576. Known for his knowledge of Greek, Latin, poetry and mathematics, he was a tutor to the young King Edward VI. He also educated his own family, in particular, his daughters who were reputed to be among the most learned young ladies of their age. Three of them made brilliant marriages, one to Lord Cecil, another to Sir Nicholas Bacon (with their son being Francis Bacon). A third married John, Lord Russel, ancestor of the Dukes of Bedford.
During the time of Sir Anthony, Gidea Hall received its greatest honour when he was host to Queen Elizabeth I herself. After his death, an alabaster tomb was erected in St Edward's Church in Romford with an effigy of him and his family. His daughter is said to have written a very long inscription on the tomb.
John Laurie
A Scottish born saddler who came south to be apprenticed by his uncle, Peter Laurie, who became Mayor of London, John also prospered. He became a magistrate, a sheriff of London, a Member of Parliament and held many other offices. He settled at Marshalls (where St. Edward's Primary School now stands) in 1840 and soon after launched a scheme to improve the east end of the town.
He built a development in Romford known as 'Laurie Town' which included a square flanked by two public halls and with beautiful houses across the back, divided by Park End Road with smaller houses. A public house on Waterloo Road was named Laurie Arms. Little is left of Laurie Town now, but John Laurie's name is still remembered in through Laurie Walk in Romford Shopping Centre.
Francis Quarles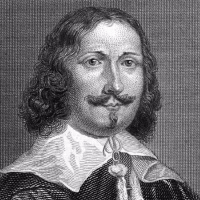 The Quarles family owned the estate of Stewards, which extended from South Street in Romford right up to Balgores Lane and the Drill Corner in Gidea Park. The best-known member of the family was Francis Quarles, who was born in 1592 and achieved fame as a poet.
Despite being a Royalist he had a puritan turn of mind which is shown in his poems, which are mostly religious and deal with Hell rather than Heaven. He published a number of books, with 'A Feast of Worms' and 'Emblems' being the best known – but he was always in financial difficulty. As a younger son he had inherited little from his father was himself a father of at least 18 children, of whom 13 survived. He died in 1644.
Sir Walter Manny or Mauny
A great soldier, commander for Edward III in many campaigns, he married Margaret, daughter of the Earl of Norfolk, and through her came to own the estates in Romford which became known as Manny's or Mawneys. At the time of the Black Death Sir Walter provided a burial place at Clerkenwell for London victims and beside it founded a Carthusian Monastery – The London Charterhouse. When restoration work was being carried out after wartime bombing of Charterhouse, the grave was discovered in which sir Walter had been buried on his death in 1372. He is believed to be the original model of 'parfit gentil knight' in 'Canterbury Tales'.
William Coys
In the late 16th and early 17th-century Stubbers at North Ockendon was owned by William Coys, who in his day was a very famous botanist. At Stubbers he created a veritable Kew Gardens, introducing many plants rare to this country which are now common, such as the peony, yucca, Jerusalem artichoke, rhubarb, goldenrod, tomatoes and much more. He published a book on herbs and his study on the use of hops was the start of English beer which became so famous. Coys' walled gardens survived until roughly 1800 and his lime walk survived until the 1950s when it became diseased, but the descendants of many of his plants can still be found growing as weeds around the area. Stubbers is now an outdoor pursuits centre for young people from the Borough.
Dame Anne Tipping
She was the daughter of Sir Thomas Cheke of Pyrgo, which she inherited on his death. Said to have been a 'dutiful child, a loving wife, and an indulgent parent' in her life she ran a little school for children at Havering-atte-Bower. Upon her death in 1724, she left £10 a year to pay for 'ye perpetual education of 20 poor children, boys and girls'. This little school still exists today, albeit much bigger. It is known as the 'Dame Tipping Primary School'.
Captain Blood
In about 1668 a gentleman by the name of Mr. Weston took an apothecary's shop in Romford Market Place and practiced medicine there. In truth, he was the notorious Captain Blood, who had tried to capture Dublin Castle from the Royalists in 1663 and consequently had a price on his head. His most notorious exploit was in 1670 when he very nearly succeeded in stealing the crown jewels from the Tower of London. He was captured but after a few weeks' imprisonment was released on the order of King Charles II, who admired his impudence. He was granted a pension of £500 a year and died in 1680.
William Derham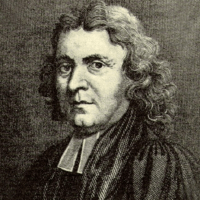 William Derham became Rector of Upminster in 1689. As well as being a dutiful priest he spent much of his time on scientific studies on various subjects. He was elected a Fellow of the Royal Society in 1702, where he delivered papers on death watch beetles, observations on the barometer and weather, migration of birds, wasps and many other topics. He became particularly interested in clock movements, on which he published a book, and he improved the accuracy of the famous Hampton Court clock. Using the Upminster Church tower as an observation post, he made discoveries about the speed of sound, using neighbouring churches at different distances to measure from. Particularly successful were his observations based on the time the sound reached him from the flashes of gunfire which he could see coming from Woolwich. He died in 1735.
Humphrey Repton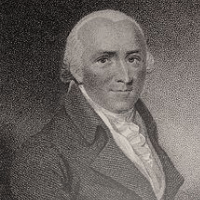 Born at Bury St. Edmunds, Repton came to live at Hare Street (now Main Road) in 1783. He was a talented and well-educated man but had been very unlucky financially. In 1788 he had a sudden idea to set up as a landscape designer following in the footsteps of the famous 'Capability Brown'. In this he proved highly successful, working on estates great and small all over the country. He, unlike Brown, liked colour and was responsible for the introduction of more flower beds, rose gardens, pergolas, and terraces, into the typical English garden. He died at his modest home at Hare Street in 1818. Many of the estates he designed, together with his beautifully illustrated books of plans, still survive to delight us. His legacy is preserved in the Repton Avenue, Repton Drive and Repton Gardens road names in Gidea Park.
Samuel Hanna Carlisle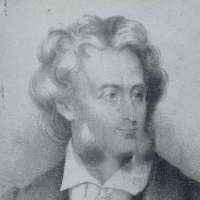 One of the most eccentric personalities in the area, Samuel Carlisle came to the Congregational Church in Romford as Minister in 1826. He was continually at odds with various members of his congregation, some of whom set up a 'breakaway' Church.
He published a number of books so obscure that nobody but the author could understand them. His most noted eccentricity, however, was having the body of young son, who had been drowned, disinterred from his grave in the dissenters' burying ground (now still to be seen as a little green by Roneo Corner) embalmed and kept in his hall for fear of body snatchers. There may have been some justification for this as men with a sack were found in the graveyard after the funeral. The body of a later child was also said to have been preserved for some years.
When Carlisle himself died in 1852 he was buried in the dissenters' burial ground. This graveyard was subsequently cleared in the 1900s and the remains of the graves moved to Rush Green.
Alfred Bennett Bamford
Born in Romford in 1857, Alfred Bamford was a talented artist who trained at the Camden School of Art and later became an art teacher. He exhibited at the Royal Academy in 1883 and many later years. Locally, however, he is most noted for a large number of drawings and paintings of local views which were published from about 1890. His collection of Essex sketches was reputed to be the largest in the country.
As well as being delightful pictures, Bamford's drawings were extremely accurate and provide a valuable record of the area as it was over a century ago.
Thomas Witherings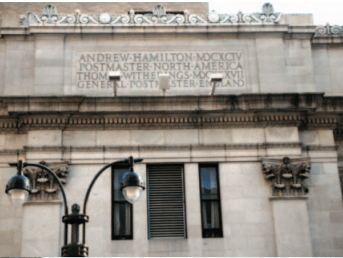 Thomas Witherings was an English merchant and postal administrator known for his work establishing the Royal Mail public letter service. He is the writer of the oldest document in the Royal Mail Archive, which states the King's proclamation of 31 July 1635 which required Thomas Witherings to 'settle a running post or two to run day and night between Edinburgh and Scotland and the City of London, to go thither and come back in six days'. From this, the public institution of the Post Office was created and Thomas Witherings went down in history as the inventor of a national postal service.
In 1646 Witherings purchased the Nelmes estate in Hornchurch and resided there until August 1651, when he died on his way to worship at St Andrews Church, Hornchurch. The estate was illegally knocked down in 1967, causing local outrage. The land was sold to a local builder who went on to build large family homes on the site. He named the site 'The Witherings' after Thomas to provide a lasting reminder. Other roads in the area memorialise the Nelmes estate too, with Nelmes Way, Great Nelmes Chase, and Nelmes Crescent residing in the area. Thomas's work is also immortalised on the New York City Post Office, where an inscription on the site of the building shows the names of postal pioneers, including Witherings himself.