Those looking to live or invest in the capital's housing market should avoid the city and head for the suburbs as London's outer boroughs are now the key areas of growth, latest figures suggest.
According to data from Lloyds Banking Group, London's Prime boroughs – City of London, Westminster, Kensington & Chelsea saw an 80% increase in average house prices between 2009 and 2014. They were the epicenter of house price increases. However, in the last two years, house prices in these areas have almost plateaued, with an increase of just 4%.
In stark contrast to the slowdown in prime borough house prices, the last two years have seen an average growth of 19% in London's outer boroughs, compared to just 4% in prime boroughs and 12% for inner boroughs. The report also points out that nine out of 10 of the top growth areas over these two years were within Outer boroughs, which have experienced a house price increase of 25-32%.
Whichever way you look at it, London is expensive and that seems set to continue. Since 2009, average house prices in the capital have increased by 59%. For many, house prices are now rising so fast they outstrip wages, and the consequence is that many are fleeing the city altogether, with over 69,000 Londoners in their thirties moving to other parts of the country, compared with just 35,000 coming in.
For those who still want to stay within city's sphere of influence, the cheaper, outer boroughs have become the last bastion of affordable housing, and so a shift in the gravity of the London property market has emerged, luring people to buy, invest and commute from London's suburbs.
The following graphic from City AM illustrates this point by showing which London boroughs have the most growth potential, based on the annual rate of house price growth, the amount of transactions currently taking place, and how the areas have been doing since 2009.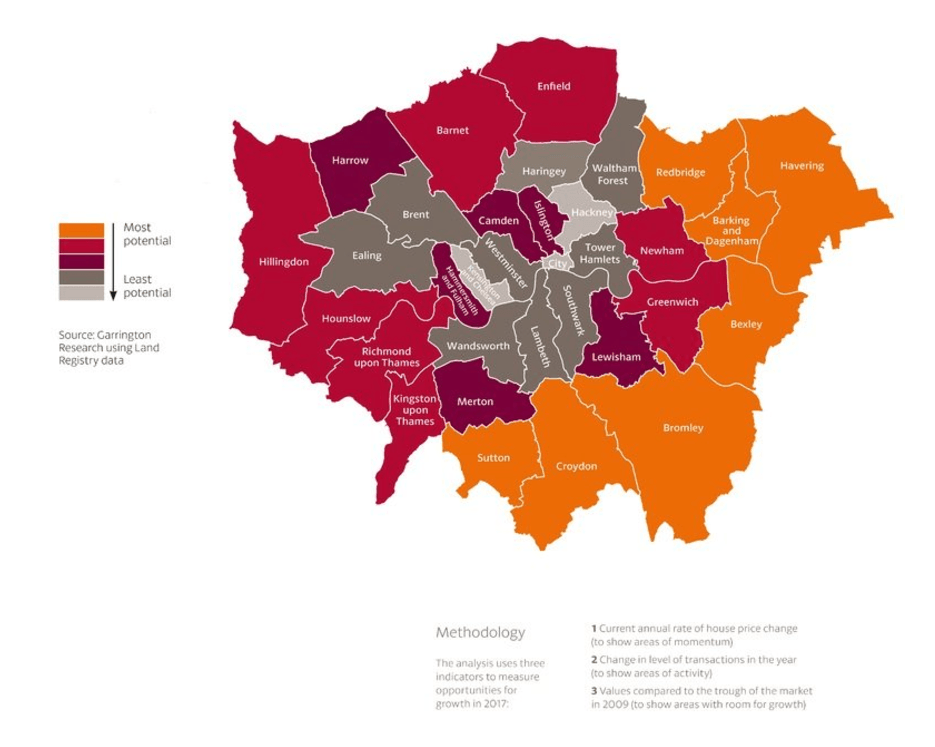 The map highlights the social process of counterurbanisation, whereby people move from urban areas to more rural areas as a reaction to inner-city unsustainability. The result of this process being that the cheaper, outer boroughs now rising faster than the most expensive inner areas.
This change tells us a story; unaffordable housing pushing people further out to grab the next closest affordable property. Inner London has become an almost impossible place to live for low and middle earners. The outer London boroughs have become prime targets for those who have been priced out of the city, and the incoming Crossrail line has made this all the more lucrative. It's an all too familiar story on such a large scale that demand is outstripping supply.
For Havering homeowners, this is great news. Our borough recorded the biggest annual increase in asking prices in 2016 and is forecast to be one of the top boroughs for house price growth this year too. 67% of people on our buyer's list are from other London boroughs hoping to move further east, which helps account for our fast, efficient selling process that a number of our vendors have experienced. These buyers are growing daily and have, on average, a higher budget than those currently within our borough.
Havering is in the perfect position for homeowners right now – demand is high, and house prices are higher. Will you be kicking yourself for not taking advantage of these ideal market conditions?